Expand your business and Increase sales with our mobile processing. Accept payments anytime, anywhere.
The Advantages of Mobile Payment Solutions

Grow your sales and your bank account no matter where you are. Our systems provide you with the flexibility you need for your business.

Our mobile solutions can easily connect with your phone, tablet or existing processing system.

You can still maintain and implement high-level security by protecting your customers' private information against fraud and identity theft, by being EMV and PCI compliant.

You will still have full customer service just a phone call away, 24 hours a day, 7 days a week.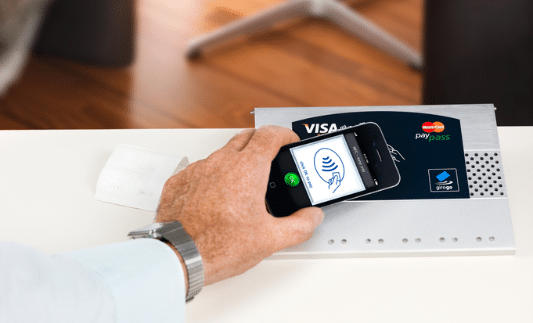 Mobile payment is the ability to use a device that contains an online bank account (such as a smartphone) to buy things, pay for services, or send/receive money by using said device. This service is typically used through apps on smartphones. Mobile payments are becoming increasingly common because of their convenience and ease of use.
How do mobile payments work?
Mobile payment gateway allows consumers to pay for goods and services using their cellular phones. Mobile payments carry a number of advantages over traditional forms of payment such as debit/credit cards and checks. The following steps are taken when mobile payments are used:
A consumer's mobile device is linked to a bank account or credit card with the service provider. 

When buying an item, the consumer uses their phone to pay for items by either swiping their phone near a

mobile payment terminal

or by placing it to the reader and following on-screen prompts.

The transaction is complete once the consumer confirms that they would like to pay using mobile payments, and the payment information is sent to the merchant for payment processing.

Payment is processed as an ordinary purchase, and the consumer can keep track of all their transactions with the service provider.
Benefit of mobile payment solutions
Mobile payment solutions are becoming more popular, and there are many advantages to using this type of payment. Some of the top mobile payment benefits are as follows:
1. Convenience 
People can spend less time worrying about how to pay in a particular location and more time enjoying the moment.
2. Physical Device Elimination 
As these solutions become more popular, there is a great decrease in the need for physical cards or other devices that people may have carried with them when making purchases in order to complete the transaction. In some cases, there are no physical devices at all.
3. Privacy 
Mobile payment solutions can be beneficial to users because it will not save any personal information that may have been stored on a debit or credit card, including the user's name and other personal details. This also helps protect against identity theft or unauthorized purchases being made with the knowledge of the personal information of the borrower.
4. Savings 
One of the most common benefits of mobile payment solutions is that users do not have to pay for purchases with cash or credit, which can often be expensive methods of payment. Mobile payment solutions are particularly popular in regions where cash may not be available on a regular basis due to a lack of convenience stores or banks, which means that people may not be able to use debit cards for payment.
5. Security 
Often, mobile payment online solutions are considered safer than physical devices because people do not have to worry about losing personal information if they lose their phones. In addition, transactions cannot be completed unless the phone is in close proximity to the individual making the transaction, which means it will be less likely that another person can steal that information.
6. Universal 
People who travel often or who may use mobile devices in different locations may find that mobile payment solutions are beneficial because they do not have to add extra cards to the collection of items carried with them at all times when they travel. Even when a person is not traveling, the fact that mobile payment solutions work across different regions means that people do not have to be worried about finding a card or device for their region in order to make purchases when they visit another part of the world.
7. Easier Tracking 
In addition to being able to track expenses correctly, people often have an easier time keeping track of their budgets because they can see just how much money is being spent at any given point. Furthermore, people using mobile payment systems are able to track where they spend their money in order to determine whether or not they would want to cut back on their spending so that they do not go over budget.
What are the top mobile payment methods?
All major gift, credit, and debit cards, as well as ACH or bank account information, can be used to pay for items or services using mobile payments. Mobile payments are divided into several methods.

SMS Payments:  SMS payments are the ability to send money using a text message. The recipient enters their bank account information or simply replies with "yes" to confirm the payment. The service carrier withdraws the funds from the sender's account.
Wallet Payments: Wallet payments are the ability to use a mobile device as a physical wallet. This mobile wallet can contain electronic versions of bank cards, coupons, tickets, and store loyalty cards. Wallet payments can be used in person or online.
a.) In-person wallet payment:  In-person wallet payments allow the use of a mobile device, tablet, or smartphone at point-of-sale (POS) terminals.
b.) Online wallet payment: Online wallet payments allow the use of a mobile device to shop and make purchases online.
Mobile P2P (Peer 2 Peer):  Mobile P2P is the ability to send/receive money directly from one individual to another through a mobile application. 
Mobile Point of Sale System:   Mobile Point of Sale Systems (MPOS) is the ability to use a mobile device at a physical point-of-sale. MPOS works by scanning barcodes or QR codes and initiating payments via online bank accounts, gift cards, credit/debit cards, or through a connected device such as a chip reader for chip card transactions.
Mobile eCommerce:  Mobile eCommerce is the ability to shop and purchase items online using a mobile device. The customer typically views items and selects the purchase option on their device. When they're ready to buy, they initiate a purchase process that is completed using an online wallet, gift card, bank account information, or a credit/debit card.
NFC and EMV Mobile Payments
The two main mobile payment solutions in use today are near-field communications (NFC) and the universal integrated circuit cards (ICC), or chip cards, commonly known as EMV. When it comes to secure mobile payment services, there is a lot of confusion between NFC and EMV technologies because they both can be used to perform similar functions.
What are NFC mobile payments?
NFC is a short-range wireless technology that allows two devices placed within 4cm of each other to exchange data. It's often used in contactless payments — when you tap your card against a reader — and downloads information from the internet to screens via NFC tags. With NFC payment technology, no physical connection between the payment reader and payment device is required.  They are automatically activated once brought in close proximity with each other, typically 4cm or less.
What is EMV?
EMV, which stands for "Europay, MasterCard and Visa", is an international payment standard that requires chip-embedded credit or debit cards. EMV is a global standard for credit card payments through mobile devices. It allows you to use your mobile device to pay anywhere that accepts contactless payments.  It replaced the magnetic strip credit cards because it's safer.
Difference between NFC and EMV mobile payment technologies!
Both of these are types of financial transaction technologies where people make purchases using electronic devices. EMV technology is used to check the authorization of credit cards, debit cards or prepaid cards at a point of sale terminal by using chip-embedded cards (also known as smartcards). NFC mobile payment technologies allow users to make payments by holding their phones over an NFC transmitter.
NFC mobile devices are typically used to provide secure information between NFC mesh-enabled credit cards and NFC card readers. This technology is used for contactless payments or mobile marketing. EMV mobile devices are typically used to provide access to chip-embedded credit or debit cards through the device's built-in readers. The technology was developed by Europay, MasterCard, and Visa as a secure payment standard to reduce fraud committed by counterfeit cards.
NFC mobile devices enable data to be exchanged between two NFC-enabled objects through wireless communication. EMV mobile devices unlock chip-embedded credit or debit cards using near-field communications technology. It also allows contactless payments or the reading of RFID tags.
NFC is used for transactions with a limit of up to $100 USD. EMV transaction limits vary by the card issuer but typically range between $15 -$100 USD.
NFC may be used to read NFC tags.  The technology was developed to allow for quick reading of short pieces of text or small files that can be transferred easily using magnets. EMV is used at many brick-and-mortar retail locations. At a growing number of retailers, you can pay for in-store purchases with your mobile device using NFC technology.
To conclude, both NFC and EMV payment technologies are safe methods to process and make payments. 
Why Choose Merchant Services Broker Solutions For Mobile Payment Solutions?
Merchant Services Broker Solutions – one of the top mobile payment companies understand merchants pay a lot of attention to their payment processing needs.  This is why we offer the best mobile payment options for small businesses to cater to their needs. 
As part of on-the-go payment solutions, we ensure high-level security and comprehensive, customized processing to meet every type of business. With our dedicated team, take your business anywhere through a wide array of easy-to-use payment systems.If you are interested in buying a mobile payment gateway for your business, contact us at 888-912-6727 or sales@msbrokersolutions.com.
Frequently Asked Questions
What are mobile payments?
Mobile payments are the financial transactions that occur between two people using mobile phones. Mobile payments can be made by just using one's mobile phone. No other technology is needed, not even a computer or tablet.
Mobile payments are more than just transferring money from debit cards or credit cards to mobile wallets on smartphones. Payments require some sort of work for them to be successful. For example, one must enter the amount of money that they are sending to someone else into their phone. The money can then be sent via text message to another person's mobile device with a shared secret code (also known as an mPIN) between both parties' devices in order for the payment to go through successfully.
Is mobile payment an e payment?
Mobile payment is not an "e" payment, because it can be done without using a computer. Mobile payments are essentially financial transactions that occur between two people using their mobile phones.
What are the four types of mobile payment?
There are four types of mobile payment services available for people to use and they are as follows:
Mobile wallets or contactless mobile payments:
This type of service allows you to use your phone as a credit or debit card. All that one has to do is load money into his/her mobile wallet, and then hold the device over a payment terminal in order for their transaction to go through successfully. NFC or Near Field Communication is one of the popular contactless payment technologies that are almost like Bluetooth. 
Wireless or mobile credit card readers:
This type of service allows someone to make a payment from their mobile device or phone through a credit card reader that they plug into their smartphone. A credit card terminal consists of a display screen, keypad, and chip reader or magnetic stripe. 
In-app mobile payments:
This type of service allows someone to make a payment from their mobile device or phone by using apps provided by companies. The company usually provides an "in-app purchase" button for this purpose. 
Mobile browser-based payments:
This type of service allows someone to make a payment from their mobile device or phone by using an existing website that has been integrated with mobile payments.
What is the difference between e-wallet and mobile payment?
The difference between "e-wallet" and mobile payment is that e-wallets can be used to purchase items online. Mobile payments, on the other hand, allow someone to pay another person directly for an item or service via their phone.
What is a mobile payment terminal?
A mobile payment terminal is a device that allows you to make transactions by using your smartphone or mobile phone. Mobile payments with mobile payment terminals are becoming popular because they allow people to pay for goods and services quickly and easily.