The Advantages of Mobile Payment Solutions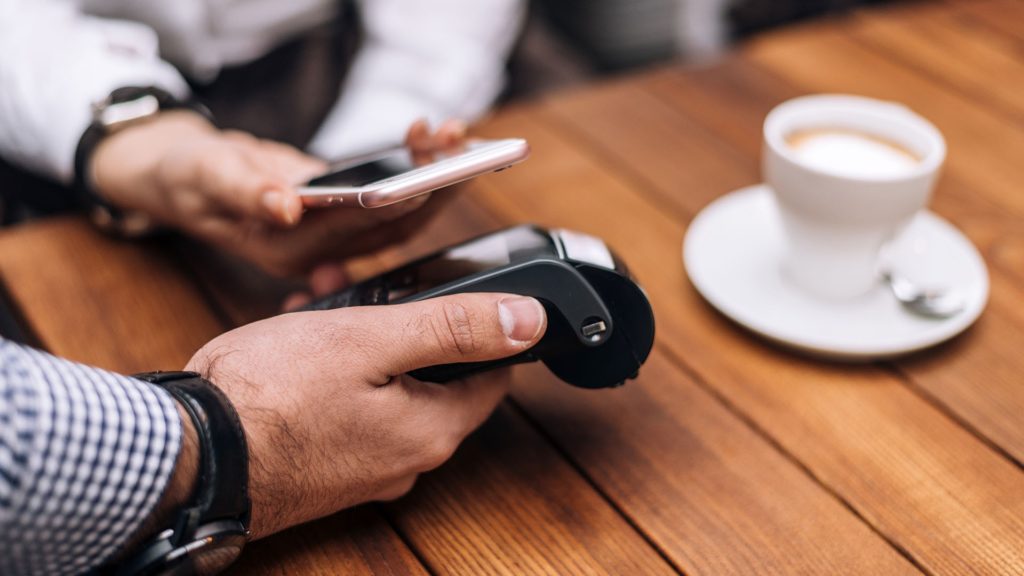 Processing Payments On the Go
Advancements in mobile technology have made it easier to have face to face processing and accept payments through our mobile pay and wallet app solutions. The good news is that mobile payment processing can be easy and convenient for your customers and yet truly fulfill all your processing needs in the same efficient manner as it does in your brick and mortar business. Which includes accepting all credit, debit, gift and loyalty cards.
Versatility in Your Business Operation
Too many times merchants miss out on sales due to their inability to accept mobile payments. Let MSBS help you gain a competitive edge with the solution that is right for you. Have the flexibly to grow your business easily with our out-of-the-box solutions that will free you up to focus on customer interaction instead of the credit card transaction.
Contact Us today to get a quote for our mobile payment merchant credit card processing solutions.
Mobile Payments
Payment processing in this tech-paced world has become much easier with our modern approach in the advancements in payment processing. At Merchant Services Broker Solutions, we service seamless on-the-go and in-store payment processing, backed by high-level security and consistently better customer services.
Mobile payment has become a convenient and fulfilling manner of processing payments swiftly without hassles, breaking barriers related to businesses starting from a brick and mortar setting to businesses seeking versatility in their daily operations. With competitive solutions offered at every step of operation, allow us at MSBS to aid you with increasing sales as you channel your focus on curating a better customer interaction experience
Mobile Payment Overview
The main purpose of mobile payments is to ensure a swift and secure system of mobile payment processing, without the hassle of having to wait long hours for transaction processing or the availability of Point of Sale systems. Mobile credit card processing is a cost-effective solution for businesses seeking the acceptance of mobile payments on-the-go. This method of card payment processing offers extra flexibility, as well as peace of mind since all transactions are done, is through secure gateways and channels.
With the increasing demand for convenience and surveillance in everyday mobile payments, many trusted mobile payment processing companies furnish effective benefits relating to Fraud prevention, Online reporting, Security, and 24/7 Customer support. 
Mobile payment processing does not require considerable infrastructure to implement and is thus easy to adopt and incorporate into the daily grind of operations. However, any budding business needs to ensure the aid of services from only the best mobile payment processing companies to avail of the benefits of mobile payment processing in full.
Here are 4 productive ways to make use of our mobile payment processing services to help improve your sales: 
# Credit card payments made possible
Through the varied resources and features provided by mobile payment processing, it is possible to accept and integrate credit card payments with the mobile application. This enables even smaller businesses to improve their revenue flow by stepping up from cash-only purchases to credit card purchases.
# Savings with every credit card transaction
Depending on the type of business you are in, a few mobile payment companies charge less on every credit card transaction than credit card companies do. With a few reasonable terms and conditions, this equates to direct savings for your business.
# Ease of integration
Integration here relates to a convenient integration of the mobile payment system with a point of sale system. Additionally, the mobile payment option provides the ability to integrate incentive and loyalty programs into the mobile application. Each customer transaction can be linked to their respective points, thereby adding value to a customer, encouraging them to return and thus increasing your revenue.
# Curate better customer service experiences
Mobile payment processing brings in features like the automation of tracking your inventory as well as customer trends. Accordingly, you can stock your inventory based on customer habits and ensure better service by swiftly meeting the customer demands.
Call to Action
Payment solutions are ceaselessly evolving, backed by complex software integration/accounting innovations that furnish easy to use features. The recent rise of in-store payment methods implies the need for virtual credit card terminals that encourage hassle-free and sometimes contactless payment systems through the use of credit and debit cards. The remote integration with point of sale systems enables accounting of accurate revenue and business data.
Merchant service providers are partnering with companies that supply advanced payment technologies to ensure frictionless and security-enhanced payment services. Credit card payment processing companies are backing small businesses with varieties of cost-effective mobile payment solutions.
Online payments have become the norm since they can be availed from the comfort of your homes. Various online platforms are fueling the mobile payments trend by offering rewards like gift cards and coupons as well as loyalty points on every purchase. Secure online gateways reduce the anxiety of online frauds. 
At Merchant Services Broker Solutions, our dedicated team comes up with comprehensive and customized solutions for every type of business, to meet every type of processing needs. As your resource to a wide array of flexible and easy to use payment systems, with Merchant Services Broker Solutions, take your business wherever you go. Get your free quote or contact us today for detailed information regarding our Merchant Services.
Take Your Business Wherever You Go