Virtual Credit Card Terminals
Make your online transactions easier & trustworthy!
An Overview of Virtual Credit Cards
The changing retail economy has provided multiple impetuses for paying for our purchases. From the age-old barter system to the reigning cash flow, checks, and the following credit/debit card transactions. While the payment process has been improving with every innovation, recent trends indicate absolute convenience in payment with ease of access and advancement of technology.
Online payments are on the rise, from the availability of mobile payments to digital wallets, bitcoins, and virtual credit card payments. Initial amenities of swiping a credit card or using a card reader are slowly and certainly being replaced by contactless methods employing a virtual credit card terminal, where simply tapping the card on the reader is acceptable for the purchase to be validated.
This frictionless luxury of online payments is one of the best virtual credit card services that merchant service providers are certified to provide. However, the downside of utilizing online credit card payments is its vulnerability to hacking and fraudulent software that exposes your online accounts.

Perks Of Using a Virtual Credit Card Online
Virtual credit cards furnish a firm sense of security, that physical credit cards lack, in addition to providing similar ease of use.
When credit card services are used, the online retailers save your personal information, that remains unchanged, for ease of future purchases. Once this information is stolen in a hacking attempt, your only option will be to cancel your card before you face any major credit loss.
Cybersecurity issues related to normal credit cards are rectified with the use of dynamic data. While a few essential details remain the same, when asking for confirmation of the purchase, virtual credit cards generate a one-time token/password through a separate app. This password is valid for that particular transaction only.
This implies that potential theft of any information is negated since the one time password cannot be used again.
Shopping With a Virtual Credit Card
Using a virtual credit card does not require an effort much different from the general credit card use. Another important factor to remember is that virtual credit cards are used in limited scenarios, not for every online purchase.
The use of mobile payment applications, like Google Pay and Apple Pay, may add more security to the storage of your virtual credit card details.
When you are satisfied with your cart contents, for online payment, you may be required to open your virtual credit card site either on an integrated browser or directly on their website.
Post signing into your account, you will receive a security code and a unique token, that may come attached with an expiration timer/date. You are required to fill these details into the attached browser.
Some features that merchant service providers may include are the self-setting feature of the expiration time of the one time token or a spending limit on your card.
The random number generation concept of virtual credit cards is expected to create a seamless user perspective, with convenient integration into digital applications. This combination of safety and sureness forms the chief element resulting in the widespread use of virtual credit cards.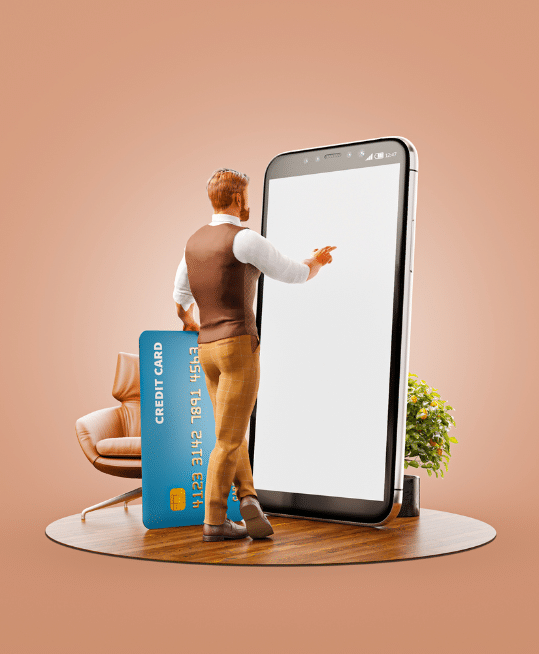 Contemporary Approach to Your Payment Processing
Avail our services at Merchant Services Broker Solutions to make your online transactions easier and trustworthy. Our smart solutions regarding the point of sale systems, allows the acceptance of transactions from the other side of the world, at affordable costs and transparent services.
The tag of being one among the many top-notch credit card payment processing companies does not come easy. Here is why.
Our services allow you to conduct real-time transaction tracking as well as processing, from your account thereby solidifying customer satisfaction.
We do not charge additional/hidden costs nor ask for additional resources, hardware, or software integration.
Mobile payments can be conducted and monitored, through our virtual credit card terminals, which are compatible with any electronic device.
Making your online payments a top priority, all sensitive data is encrypted and stored by abiding by PCI-compliant guidelines.
The best way to ensure fool-proof use of virtual credit cards is to remain aware of your online accounts and regularly perform checks as well as review the annual credit reports. The added layers of security are worth all the effort you put into managing your virtual credit card.
No matter the services you require, whether it is processing credit card payments or setting up virtual credit card terminals, partnering with our dedicated team and staff, will lead to customized business solutions backed by excellent customer services.
Contact us today at 888-912-6727 or send us a message at sales@.msbrokersolutions.com regarding further inquiries about our services. 
How Will A Virtual Credit Card Terminal Boost Sales For Your Business?
The aficionados at merchant payment processing solutions will guide you through the process of getting your business at the forefront of the revenue queue when it comes to smooth payment processing solutions that fits perfectly into your budget. Let Merchant Services Broker Solutions provide you with contactless card solutions to keep you current and fresh, making it easier for customers to transact when purchasing from you. A customer would just need to tap their debit or credit card on the virtual credit card terminal and the payment is processed. Just like that! With simpler and more user friendly payment processing systems, think of the possibilities! Sales will flow at an increased rate and payments done in record time. Give Merchant Services Broker Solutions a call on 888-912-6727. Allow your business to flourish with a virtual credit card terminal from us today. Call now!