A modern approach to taking payments in an affordable way that's unique to your business.

Our tools easily allow you to accept a wide variety of payments quickly and safely. Give your customers a choice in how they pay by offering different options for a wider reach.

Our processing solutions gather data, organize it, and deliver detailed reports that provide you insight into where you need to analyze and improve your business performance.

Experience the peace of mind that ensures your data is protected. We implement security protection against identity theft and fraud, while maintaining PCI compliance.

We offer a wide range of Point-of-Sale systems that seamlessly integrate with your existing accounting and business management software. They are easy to set up and use, bringing you success with very minimal energy investment!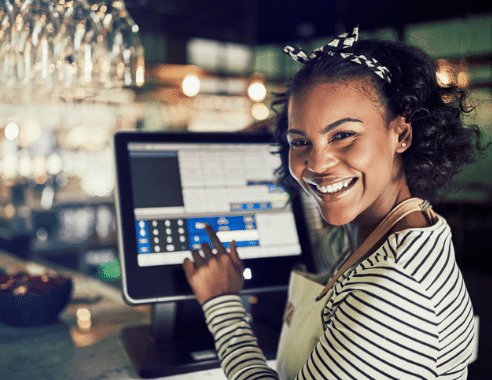 What Is a (POS) Point of Sale System?
A point of sale (POS) system is a hardware and software combination that enables you to efficiently run your business. In addition, it helps you keep track of the sales transactions as well as manage employees who handle those transactions. Specifically, a point of sale software provides

An electronic method for recording all transactions, such as the customer's purchase.

An organized way to manage merchandise inventory and process employee payroll.

A method for generating reports that can be used to monitor business activity and performance over time.
Using point of sale service helps you
Improve service quality by reducing errors and minimizing wait times at checkout counters;

Speed up inventory management processes;

Reduce labor costs associated with running your business (POS software lets you easily track who works what shift); 

Simplify bookkeeping by reducing the time required to prepare end-of-period financial statements, and

Improve customer service by making it easier for employees to get timely information on customers who have purchased items in the past.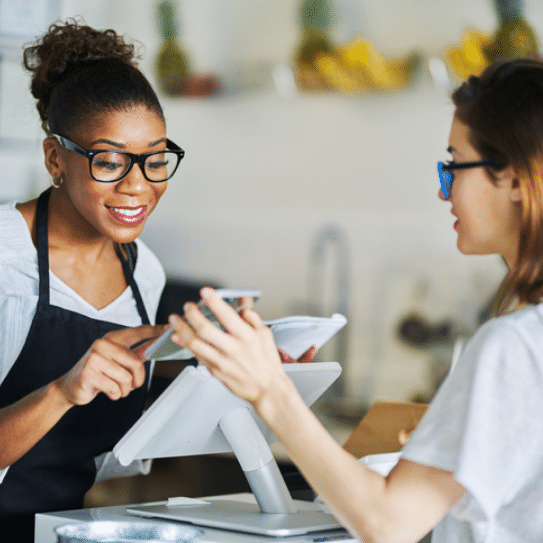 In addition, it's important to keep in mind that a point of sale system is only as good as the data it contains. A poorly designed or managed POS system can lead to major problems such as

Lost sales (which result from inaccurate inventory counts); 

Errors and missed opportunities (for example, sales and promotional activities that could have yielded higher sales); and

High costs (for example, paying for labor hours spent correcting data entry errors).
Types of POS
There are several types of POS systems on the market today designed for different types of businesses. The main types of POS systems include:
Open Source POS Systems: Open source POS systems are developed by the open-source community and then shared with businesses that want to use them for free. Most require licensing fees before using them. 
Mobile POS Systems: Mobile POS systems are designed to be used on a tablet or smartphone and not a traditional computer. They give retailers the option to process transactions anywhere, which increases store sales.  
Cloud-Based POS Systems: Cloud-based POS systems allow merchants to access their POS from any internet-connected device. Merchants don't need to install software for it to work and don't need to worry about system downtime.
Retail POS:  Retailers use point-of-sale systems at their brick-and-mortar locations. They allow store owners to track inventory, sales, purchase orders, and employee payroll. 
Self-Service KIOSK POS:  Kiosk POS systems are used by businesses that need to charge customers for services or products on site. They give customers more options to pay for goods and services, including bitcoins. They are commonly found at airports, grocery stores, and shopping malls. 
Touch-Screen POS Systems:  Touch-screen POS systems are the most common type of point-of-sale system. They include a touch screen monitor, computer, or mobile device that uses transaction software to manage sales activity for each customer.
POS Apps:  POS apps are specially designed as mobile apps for merchants to use as digital wallets. In addition to storing debit and credit card information, they allow business owners to view all their transactions in one place from anywhere at any time.
Features of POS
1.) Timekeeping feature: An electronic time clock is a computerized timekeeping system. It is a software application that records and reports the amount of work being done by an employee in a shift or in a day. The system stores all the data related to time, date, and shift that is recorded by an electronic clock attached to the system. Time records are used for billing purposes, tracking labor costs against budgets, and reviewing labor estimates.
2.) Discount feature: A point of sale for small businesses comes with a discount feature that allows you to create discounts for customers at the time they are paying for their purchases. Regular or everyday discounts such as those that expire or include an expiration date can be created simply by defining the rules for that type of discount. You can also create a discount for a customer, product, or group of products as part of a special order processed by your point of sale system. 
3.) Reference number or transaction number generating feature: A point of sale system generates a reference number, often called a sales order number, each time you create an invoice. The reference number is used to identify the invoice for future reference. Some point of sale systems might also include the ability to generate transaction numbers that are used for products that do not have prices associated with them. These transaction numbers are included on receipts or reports that list products that do not have prices, such as salon services or items that someone might donate to a charity.
4.) Sales slip printing feature: A point of sale system can print sales forms, invoices (sometimes called bills), and receipts. The point of sale system includes a printer connected directly to the system or attached to a computer that is running the point of sale program. Many point of sale for restaurants and small businesses have options that can be set to enable them to print reports for inventory, customer information, and other types of lists. Reports provide detailed information about specific items, such as how many units of an item were sold during a time period.
5.) Payment collection management feature: The payment collection management feature of a point of sale system allows you to store information about customers, including their credit card numbers and billing addresses for future reference. In some cases, the point of sale solutions can even store this information in an encrypted format to prevent others from accessing it.
6.) Security feature: Point of sale systems have built-in security features that allow you to restrict access to specific areas in the system. Administrators are typically provided with the most powerful access rights and can make changes to your point of sale system, such as adding new users or changing existing permissions. Employees who use the point of sale system might be given less access, such as the ability to search for inventory information but not modify it.
7.) Reconciliation feature: Point of sale solutions typically offer reconciliation features that allow you to match the transactions listed on your receipts or reports with other forms of payment, such as credit card slips, checks, and cash register tape information. This is often done by entering a code for each line item so you can easily verify if the details match.
8.) Centralized inventory feature: Point of sale systems usually include a centralized inventory feature that allows you to easily track product levels within multiple locations or for different items. It often includes the ability to create purchase orders and ship items between different departments. This centralized inventory feature can save you time and energy by eliminating the need for you to constantly visit each location or department to gather product information.
9.) Inventory reports: Point of sale systems typically include a variety of different types of reports that allow you to assess your inventory levels, determine how much inventory you need to purchase and track the movement of items. The types of reports you receive depend on your point of sale system, but they can include information about current inventory levels, historical trends (such as which products sell more during certain times of the year), or even information about specific customers who make some types of purchases.
10.)  Inventory tracking: Point of sale systems typically include inventory tracking features that allow you to easily maintain information about the products you have for sale within your retail business. You can create custom fields that contain different types of item-related information, such as the item's description, price, location, and more.
How does it work?
Before you use the POS, you need to connect it with the cash register and credit card machines so that they can communicate with each other.
POS is connected to a modem or wireless network receiver through which data flows away. The length of this data stream depends on the type of connection used. When you tap your code, POS receives the request for information from the cash register, and its internal processor processes it.
Once all requests are processed correctly, POS submits them again, but now as successful transactions that require no further attention. If there is an error in processing any operation or transaction, then POS sends that report back to be corrected.
All transactions conducted through POS are recorded in real-time; hence it enables businesses to monitor sales performance and take necessary corrective measures.
POS (Point of Sale) is a system that runs on a computer and connects to a cash register and credit card machines. 
Why Choose Merchant Services Broker Solutions for Point of Sale Systems?
POS systems are considered an integral part of modern business management. They help in speeding up the retail checkout process, improving cash flow, and making payments more accurate.Merchant Services Broker Solutions is one of the top point of sale companies in the United States. When you work with us, you come across different kinds of POS systems for your convenience.  We have simple ones that are easy to use by retailers. We also have advanced POS systems with all the features required for a high level of security and other features.
We also offer our customers different kinds of POS hardware and software so that they can use the one that best meets their business needs.
If you want to know more about how we work and what we deliver, feel free to contact us. We would be pleased to answer your questions and provide you with additional information. To get the best advice on the POS system, contact us today at 888-912-6727 or sales@msbrokersolutions.com
Frequently Asked Questions
What are the key features of a point of sale system?
A point of sale system is used by retail operations where the sales operations are carried out. It involves all the processes that need to be completed in order for a transaction to be made. This includes:
Receiving and directing customers and inquiries

Checking and receiving payments from customers for goods or services

Providing change or composing bills for customers

Taking accurate measurements of goods to be sold, marking prices on items, and ensuring that the correct price is charged to the customer for goods or services

Transferring goods within or between departments to complete customer orders

Obtaining authorization for credit purchases based upon specified criteria

Providing vouchers, receipts, and bills following a sale

Managing

point of sale terminals

Assist the

point of sale terminal

operators
Each point of sale system varies from one to another according to the services that it offers. Some point of sale systems have a touch screen interface, whereas some have both a touch screen and a keyboard. The
point of sale terminals
are used by all types of businesses, from small retail outlets to large multinational corporations.
POS is generally made up of a payment device (credit card reader), software that runs on a computer, and a printer. The first decision to make when buying POS equipment is whether you want an integrated system or two separate components. We recommend integrated systems because they are more convenient--you only need one device (instead of three) and you can combine the printer, computer, and reader into a single box. They also have the advantage of being more convenient to use since you only need one device rather than three separate ones. For more information, get in touch with Merchant Services Broker Solutions. 
The important factors to consider while buying a POS are: the type of point of sale system, supported payment methods, barcodes, and scanners, languages supported by the interface, DHCP/Static IP options, Windows OS compatibility, Operating System requirements (RAM & Hard Disk). When you are buying a POS system, it usually comes with a price that is inclusive of an application software license.

What is a point of sale transaction?
Point of sale transactions are everyday occurrences in our lives. Whenever we purchase something from a store or restaurant, that is a point of the sale transaction. In addition to the cash registers used by retail businesses, many other types of equipment allow for POS transactions:
When you use your credit card at a grocery store checkout line, you are using a POS terminal.

Many gas stations have POS terminals that allow customers to pay for gas, car washes, and other services.

ATMs are also considered to be POS terminals.

When you use your debit card at a retail store or restaurant, you are using a POS terminal.

Many parking lots have payment kiosks at the entrance/exit that are POS terminals.
A point of sale system, or POS system, is an electronic device that records sales transactions. It usually includes a cash register and related equipment
Read More »
What is an Online Payment Service Provider? An online payment service provider is a company that allows customers to pay for goods and services over
Read More »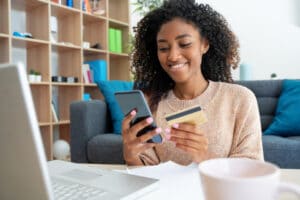 What is a virtual credit card terminal? In very general terms, a virtual credit card terminal is a system that allows the acceptance of credit
Read More »